best before april 30, 2005
i am now officially a bum.
my resignation is effective today.
i made a couple of visits to the office during my 2-week terminal leave (yep, i can't get enough of sykes!). one in particular was quite disturbing. it was when i saw a newbie already occupying my station. technically, it was still MY station until yesterday. wouldn't mind if someone was already using my station, but i would've appreciated it if he put my stuff away decently. haaay. :( it just felt strange. kind of like the way i felt when my car was being towed away. sangtabi nalang ako. so sad.
and since this marks my actual date of resignation (and for the sake of those who weren't able to read my email), might as well post my farewell letter.
>><<
Subject: bittersweet goodbye
NOTHING...
lasts forever.
It has been a fulfilling journey. And this is my farewell.
To everyone I have worked for, with and against (wla naman sigurong against :P), thank you.
I have come a long way since day one, and every moment I spent here has been indeed, a blessing.
While I am thrilled to move on outside the company, I am sad to leave a bunch of great people here. You guys are the most endearing people I have ever met...or probably will ever meet in my life. When work had become too toxic, you guys served as my only inspiration to go on.
My entire stay in MM has given me lots of pieces of the puzzle. But there is a missing piece, and it is something I have to find elsewhere.
To my CS family (GEN, PARTS and EMAIL) - I wouldn't have you guys in any other way. I wouldn't have survived 3 years if you guys weren't the kind of people that you are. Working with CS GEN to PARTS then back to CSGEN/OLS was one roller coaster ride, and I L-O-V-E-D it. It was as much an accomplishing as it was a humbling experience for me. I think I have never embraced a job the way I did here. I had the best times with everyone - on and off the floor.
To my Beautiful Lumps of Coal - my kindred, the original MMCS bloggers. Thank you for introducing me to the world of blogging. Writing has always been my therapy and at most times it has kept me sane.
MM Socials Committee - stressful as it may have been, I truly enjoyed all the events we've organized - team buildings, parties, fund raisers, fish fridays, etc. I seriously considered having a career as an events organizer. :) We have proven that imitation is indeed the best form of flattery when other accounts copied our ideas.
MMIT - I really would have applied at your group if only I were qualified. Thank you for always making me feel welcome in your circle.
MMTS - if I could have it my way, I would have bonded more with you guys. Sensya na sa mga panahon na maingay kme (or ako lang..hehe).
MMAPAC - if only NA and APAC can merge, that would be a blast. :) Thank you for always accommodating me whenever I visit your floor.
To the newbies, I wish I had the chance to know you guys better. I wish you guys all the best. :)
I will always be proud to have been a part of Macromedia. If someone would ask me the best career experience I had, I'd say -- in a heartbeat -- my time in Macromedia. :)
I will miss you guys. It's already a given.
Ms. Explain signs off...
--Jarjar
>><<
and my special email to my friends at work...
Subject: because you're in my heart...
You guys are the closest to my heart...and I have a special message for each of you.
Mjay - I could not leave without thanking you. You will always be our Mommy Jay. It was so difficult to see you leave MM, and I thought we couldn't make it. But you molded us into the strong people that we've become. Thanks for having faith in us.
Joie - the most overwhelming thing anyone could have ever said to me came from you. Nothing beats being told that "you matter". Thank you for your trust and confidence in me.
Meme - you are my twin sister in more ways than one. Oftentimes I am able to understand the perplexities of life (and love?) because of you. You know how I feel even before I say a word. Twin, the words "you deserve better" finally makes sense to me, and you did a lot to make me understand that.
Lee - somehow, I knew all along that you were looking after me. :D Ada is not the only angel I've met on earth. You are a genuinely caring person. You have witnessed me rise and fall several times and I couldn't have done it without you. You inspire me with your courage and strength. I will see you in UP campus. ;)
Jhon -- one of my best male buddies. Jhon, I feel privileged to be your friend. Countless times you've proven to me that I can do anything. Thank you. :)
Clyde -- the very first person I made friends with here at Macro. If it weren't for you, I probably wouldn't have a social life, and a fashion sense. Hehe. You are my first and last team building buddy! Now, we will be roommates again in Bora! :)
Jayvee - I guess im no longer fickle minded my friend. This time, it's for real. L Im actually flattered that you've tried to convince me to stay. And I did, albeit temporarily. Your presence made me look forward to go to work. You are my "queer eye for the straight girl" mentor. Thanks for teaching me how to live life the grand way, and not making me feel guilty about it. :)
Cathy - my very first TL. Thanks to you, I am more conscious of my grammar. Ms. Auto-Correct. Hehe. Scissor? One lang? :P Seriously Edjy, I am so proud of your achievements! Isa kang idol!
Ian - you are sunshine personified. Natuto akong wag masyadong maging pikon dahil syo. :) Sino na manggugulat sakent? Or ttawag saken ng Bettina, Dang or Charlene? :P Thank you for not only being my coach on the floor, more importantly, you have been my life coach.
Trish - pachuchay. you are a wonderful combination of cuteness and smartness. And you're right, I can never forget the time when I asked you if our teasings were getting on your nerves. I guess that was when true friendship began between us.
Benneth - I have always admired your professional ways, but you also know when to be candid. I enjoyed our HK trip. Tama ka, isa syang laugh trip. Isang mahal na laugh trip. :) bsta pag stressed ka na sa work, just shout "whoooo!". :P
Jules - what I wrote in your friendster testimonial remains true. I admire you for everything that you are. Thank you for always reminding me that I am worth it. I made some of the best decisions in life because of your influence. I really owe you. Oh, and thanks for encouraging me to grow my hair long. It took me a year before I finally listened noh. Hehe.
Paolo - sana noon pa tyo naging close. I really thought you were a quiet and shy person. Mali pla ako. Maling mali! :P Seriously, I hope you realize how an amazing person you are, the same way that you made me realize that I am one. :)
Pio - I'm glad that we got to know each other, or else your first impression on me will never be erased. Cnong mataray, ako ako ako!!?? :P now I know why you are labelled a ladies' man...coz you make any girl feel like a princess. :)
Pauline - you know how special you are to me. It is the pureness of your heart that makes you truly lovable. You have accepted me for what I am, and you've never ever judged me. You made me understand that I had to go through all these to help me grow into the person that I am today. :)
Meng -- one of the people i can count on if i need an honest opinion about anything. Isa kang totoong tao Meng. And I hope you remain that way. :)
Hazel -- I've shared the most interesting conversations with you, and not only about great kikay finds. :) you've always supported me in my plans of becoming a teacher. I know we will soon fulfill our goals. Good luck to us. :)
Angelo -- we may have only "talked" once, but that talk has made all the difference. thanks angelo. :)
Marlon -- the adopted CS. You have always been there for me. Whatever you decide to do (maging developer or surfer k man), I wish you all the best man! Thanks for the times na pinaiyak mo ko...I needed that. :)
Princeton -- until now, nakatatak saken ung cnabi mo..."ang buhay mo nasa labas ng sykes". well, i'm exploring that world now. thanks ston. :)
Jikjik -- ikaw ang sosyal na nde sosyal. :) i will miss our yosi and coffee breaks. you are one of my kuya's here in macro, always there to protect me.
Chuckee -- I'm really glad we patched things up. I was so worried that you wouldn't speak to me again. :/ Thanks for being nice to me pa ren. :) I will never find anyone who speaks tagalog cuter the way you do!
Kirby -- dude. :) in case i haven't told you -- you are one sweet person. Kahit sa ka-barkada mo, sobrang sweet ka. Tsaka malakas ka mang asar. :P Remember the time when we had a small talk at Majay's party? I could never forget that. You helped me get back on my feet. Thanks dude. :)
Acee -- the only MM person I know na mas mataray p saken. :P remember how we usually bump into each other sa ladies' room? hehe. i knew we would bond beyond the rest room. haha! and we did. kita kits nalang sa shopping malls? :P
Jouie -- cguro if we were in showbiz, tayo na yung on-screen partners. :P Thank you for making me realize how special i am.
Ren -- one smart and hardworking gal. you've given me lots of inspiration! thanks for all the pieces of advice. You're right, if we have faith in ourselves, we can do anything.
Cocoy -- minsan feeling ko journal kita. you know a lot about what i'm going through, and you're always ready to listen kahit busy ka. thanks coy. :)
Rinier -- more than the laugh trips, we've shared sensible chats about life. thanks dear. i wish you true happiness...and good health? :)
Chit -- you are more than a coffee buddy to me. thanks for all the good times. you are one of the humblest and coolest people i've met. i'll see you at starbucks morato! :D
Dona -- di ko akalain na mababaw ang luha mo! mas mababaw pa saken. hehe. :) i really had a great time being your seatmate. lahat ng gulat moments ko nakita mo. :D good luck on your MBA. :)
Thet -- yes, i will keep this in mind: i will never settle. i know at some point i did, but i've learned. :)
Oh, and thanks guys for the going away "surprise" last Saturday. I was really really touched.
I love you all! *hugs hugs hugs*
--Jarjar
>><<

addendum
to ice and prims...
(kse nauna sila saken umalis so nde ko na nasama sa email...ayan EXPLAIN!!!!!! :P)
mistress ice -- i admire you for your honesty, even if it meant getting into trouble. i will always remember you as the person who stood out to be the bravest one in our round table session with GAM. i wish you success in your career and marriage. :) know that i am very fond of you and keith. God bless you both.
prima -- ang original at nag iisang batang alactagrow. :) how do you retain all that info in your head? asteeg talaga. at isa ka ring gabriela silang! i will never understand what's with F4, pero bilib ako sa pagiging fan mo sa kanila. :P i guess, our leaving was really for the best. i sincerely wish you the best in life.
and to markoboyd -- for some reason i forgot to include you in my "special" email. ugh, sorry about that. anyway, i want to let you know that i consider you as one of the most brilliant men i've ever met. sobra. reading your articles/blog entries makes me want to become a smarter person. hehe. :) you are setting a good example of what a family man should be. galing. and i know that your talents will really take you to places. keep it up man!
>><<
haaay. can't help but reminisce. so i want to post these 3 old pictures from my macromedia days. Twin, you'd probably kill me for doing this. pero kung ayaw mo ng itsura mo noon, mas ayaw ko ng itsura ko noon! haha! it was during these days when i was labelled as "lalakeng may boobs". lintek na short hair yan!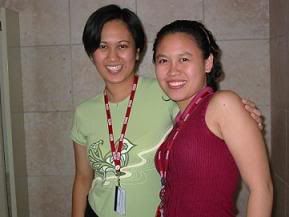 tama bang sa ladies' room mag picture taking?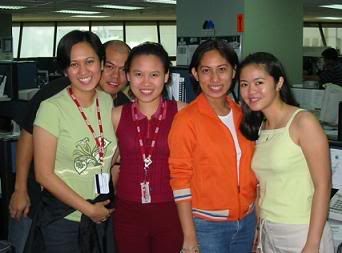 i think the band name "Nene and the Virgins" was inspired by this picture :P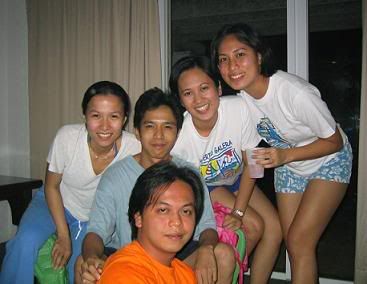 oo na. convinced na ko. nde na ko magpapaiksi ng buhok. puteeeeek. :D
==